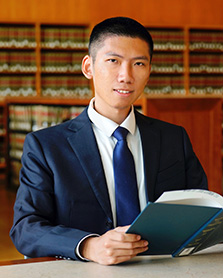 Peining Wang
Peining Wang just graduated from the Master of Laws program at UC Berkeley School of Law, where he focused on corporate law, science and technology law, and data security, and served as a general editor of the Berkeley Technology Law Journal. He has been conducting research to support SINOTALKS®'s publication of China-related studies.
Before attending Berkeley, he completed his undergraduate education at Fu Jen Catholic University and received a Bachelor of Laws degree with a minor in Computer Science. With knowledge and skills related to law and technology acquired from this interdisciplinary training, Mr. Wang has authored a few insightful articles, including one titled Commentary on the Protection of Private Rights under the Principle of Prohibiting Abuse of Rights, which was presented at the Ninth Fu Jen Catholic University-Renmin University of China Academic Roundtable on Law.
Mr. Wang has also completed multiple internships at top-tier law firms in China and received the "Certified Information Privacy Professional for Europe" (CIPP/E) recognition.
王霈宁
王霈宁刚从加州大学伯克利分校法学院的法学硕士课程毕业。在伯克利期间,他专注于公司法、科技法和数据安全,并担任《伯克利科技法律杂志》的编辑。此外,他还为丝络谈TM所发表的中国研究提供学术支持。
在就读伯克利之前,王霈宁在台湾辅仁大学完成了本科教育,并获得了法学学士学位,同时辅修计算机科学。这种跨学科背景让他具备法律和技术相关知识和技能,并撰写了数篇富有洞察力的文章,其中包括在第九届辅仁大学-中国人民大学学术圆桌会议上发表的《〈论禁止权利滥用原则的私权保护〉评论》。
王霈宁还曾在中国多家顶级律师事务所实习, 并获得了"欧盟注册信息隐私专业人员"(CIPP/E)的资格认证。