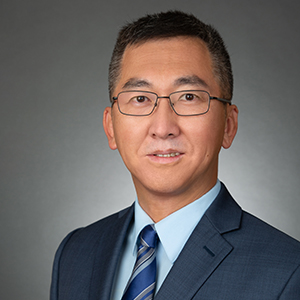 Dr. Su Sun
Advisor, SINOTALKS®
Managing Director, Secretariat Economists
Dr. Sun has over twenty years of experience in economic consulting in the United States. He specializes in economic analysis in antitrust, unfair competition, and intellectual property disputes, with a particular focus on these issues in China in recent years. He has been retained multiple times by China's Ministry of Commerce (MOFCOM) and State Administration for Market Regulation (SAMR) to provide economic analysis in their antitrust review of mergers and acquisitions. Over the course of his career, he has submitted economic reports to numerous regulatory agencies in China on behalf of clients. As an expert witness, he has submitted economic expert reports to more than ten courts located in different regions of China and has testified in many hearings and trials.
Dr. Sun has written extensively on antitrust issues, including those pertaining to China. His English articles have been published as book chapters or in various publications, including the Antitrust Law Journal, European Competition Law Review, Journal of Competition Law and Economics, and Journal of Antitrust Enforcement. His Chinese articles have been published in several Chinese journals or on Chinese websites, such as Comparative Studies, China Reform, and Caijing.com.
Dr. Sun received his bachelor's degree from Renmin University of China and his Ph.D. in economics from the University of Michigan. At the University of Michigan, Dr. Sun also taught economics at both the undergraduate level and the MBA level. In addition, he has also taught a summer course on antitrust economics at Renmin University of China. Dr. Sun is currently a Senior Editor of the Antitrust Law Journal and serves as an advisor to both the College of Management and Economics of Tianjin University and the Anti-Infringement and Anti-Counterfeiting Alliance in China.
---
孙速博士
丝络谈™顾问
Secretariat Economists董事总经理
孙速博士有超过二十年在美国提供经济咨询的经验。他专长于反垄断、反不正当竞争和知识产权争议中的经济分析,并在近年专注于中国相关领域的工作。他曾作为中国商务部和市场监管总局聘请的经济学专家,为这些机构对企业并购的反垄断审查提供经济分析。此外,他多次代表客户向中国监管机构提交经济分析报告。他曾作为专家辅助人向十多家中国法院提交经济分析报告,并在多起案件的庭审中出庭作证。
孙博士撰写了大量关于反垄断方面的文章,包括与中国相关的反垄断文章。他的英文作品已作为书籍章节出版或在多家期刊上发表,包括《反垄断法期刊》、《欧洲竞争法评论》、《竞争法和经济学期刊》和《反垄断执法期刊》。孙博士的中文作品曾在《比较》、《中国改革》、财经网等中国期刊和网站上发表。
孙博士本科毕业于中国人民大学国际经济系,在美国密西根大学获得经济学博士。他在密西根大学曾教授本科生和MBA学生的经济学课程,并在中国人民大学暑期班教授过反垄断经济学课程。孙博士现任美国反垄断领域的顶尖期刊《反垄断法期刊》的资深编辑,同时也是天津大学管理与经济学部创业导师和北京反侵权假冒联盟顾问。